Admission
Enrol in Teacher Training Programs
Globalization has a positive influence on teacher education and this in turn has changed the face of contemporary teacher training programs. Operating in the milieu of changes brought about by globalization today's teachers need to be competent enough to carry out the teaching activities in a productive and professional manner. Keeping this in mind Asian College of Teachers has launched an array of teacher training courses – Pre and Primary Teacher Training, Montessori Teacher Training, Nursery Teacher Training, Early Childhood Care and Education along with a host of other courses like teaching English grammar, teaching English phonetics, classroom management, classroom material management, pre-school administration, IT in classroom etc.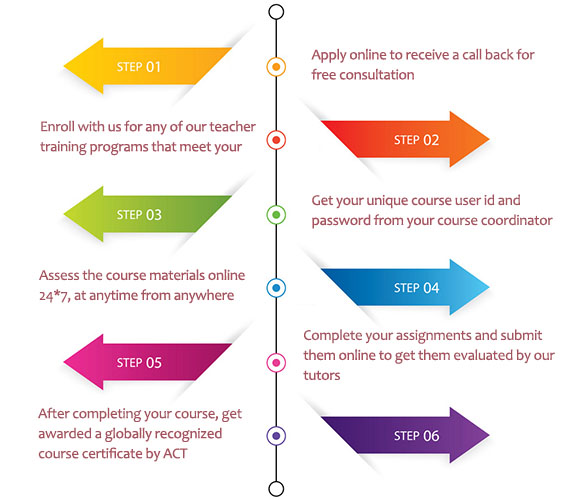 Apply online
The trainees can pursue the courses from any part of the world as Asian College of Teachers offers the courses in online mode and webinar format. Interested candidates willing to enrol have to fill up an online application form with all the relevant details and must provide correct email id and phone number as all the communication will be forwarded there. Once the application form is submitted, the candidates will receive the course details via email and phone call from admission executives. The payment details will be provided to the candidates via mail after enrolment. The course fee can be paid through online payment using Debit/Credit Card or by depositing Cash, Cheque or Demand Draft to our bank account. After the payment is credited the candidates will be receiving payment confirmation with online admission form. They need to fill up the same and submit in order to get online access to the course.
Access the course online
Once the candidate signs up for any teacher training course, the coordinators of Asian College of Teachers will contact online via mail. The candidate will receive a username and password, through which s/he can access the course material. The candidates will be given access to one phase at a time. The candidate should complete the phase within the given time and submit the assignment for evaluation. If any problem arises related to the access or course, a great support team is there for help. The online course materials will include reading materials along with Videos and Power Point presentations. There are assignments in each phase, which the candidates are required to attempt and send it to their respective tutor for evaluation. On successful completion of the course, the candidates will receive the certificates.